EdenPURE A5095 Gen2 Pure Infrared Heater Comprehensive Review
Most individuals that are searching for a space heater will prefer a lightweight, portable construction to the heavyweight, non-portable model.
If you desire an addition to your home décor, you definitely should consider purchasing the EdenPURE A5095 Gen2 Pure Infrared Heater, because it has a very unique, bookshelf design, which is very eye appealing, plus it will provide a sufficient amount of warmth to any room.
Check out the current price on Amazon (currently on sale!) >>
EdenPURE A5095 Gen2 Pure Infrared Heater Features
Increased Longevity
The two year warranty that is included in the price, is enough said about the longevity of this product. The heater is constructed out of high-quality materials and comes with two build-in handles, which makes it easy to move from place to place. Resource Partners Enterprises name alone can be a sure sign of increased longevity.
Air Purifier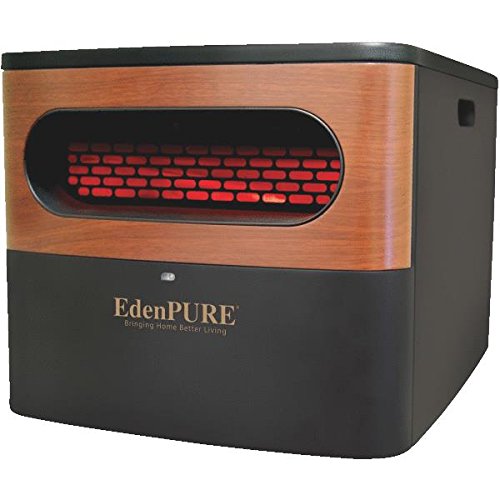 You can purchase an air purifier accessory kit, which includes a Hepa filter, UV light, and PCO component. This will cleanse the entire room's atmosphere of dust, odors, and bacteria, which is wonderful for someone that is plagued with asthma and allergies.
The air is filtered through the purifier at a return of 99% efficiency rating. The Hepa filter should be cleaned at least once a month, so that it will provide the purest air possible.
Convenience
This space heater offers convenience in every corner imaginable. It comes equipped with a remote control, so that you will never have to leave your comfortable recliner to adjust the settings or to turn the unit on/off. It can easily be done with the remote and a click of a button.
The automatic feature will turn the heater off, once the room's temperature has reached your specified temperature setting.
This alone will cut your energy bill significantly and save on energy wastes, which tend to be a problem with other space heaters.
The heater is also equipped with an automatic timer that will offer several different conveniences. Once the space heater is switched off, you can adjust the timer from 1-12 hours and the heater will begin to operate at that set time.
This function can also be utilized, as a shut-off timer, which will work perfect for those that are always on the go.
Size Specifications
The dimensions are perfect for someone that has limited space. The 15.1"W x 11.5"D x 9.6"H, all around size and 15 pound lightweight construction is more than anyone could ask for.
This heater can be transported back and forth to work or from room to room, with the least amount of energy exertion possible.
Heat Range
The EdenPURE A5095 Gen2 Pure Infrared Heater will warm up to 1,000 square foot area, within a very short time frame. Of course, there are some factors that need to be taken into consideration, when you are contemplating this amount of heat emission.
If a door seals off the room, the heater will operate more sufficiently and effectively, as stated by the manufacturer.
Overall
If you have children or large pets, you may have concerns about the heater getting tipped over, but its short and wide design makes it nearly impossible for this to happen. It does not have an "auto shutoff" feature, if this does occur.
This wonderful space heater is definitely one of my best purchases of all times. I highly recommend it to anyone that is searching for a beautiful, but effective heater to keep his or her bedroom or bathroom warm.